For a while some of my posts won't show - I want to protect the pictures more if I can so I'm trying to watermark all pictures I've posted here and then re-post them on the blog they came from so I'm saving a lot of blog pages as a draft until I fix this. I know I can't always protect my work on the internet, but I sure want to try. Especially when some are my son's photos and I know I don't want people claiming my cutie as his own! That and my husband ;)

I also decided to see what Tuesday Tag-Along was all about with tweepoppets blog page. I figured it might get more followers, and maybe I'll meet some people a lot like me :)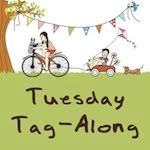 I'll also be importing my "Closet Full of Crafts" blog into here. I figured it makes sense to make this all about my family and my hobbies instead of making them individual. I have to find my crafty side again... ever since I got my camera I've been slacking on doing more.