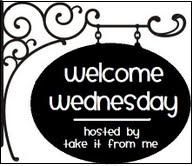 I like doing these to see who all follows. Those who have started I'll be checking you out soon!

Sorry I still have a few blog posts down, once I get those watermarks on them they'll be back up and running!

Added: I had to post these!! I decided to buy my husband gladiolus just because today, to hopefully make him feel more appreciated :) They're beautiful.


Does the picture look good? The picture looked too dark when it first came out so I edited it in photoshop to lighten it up. I feel like it makes it gives it more warmth, since it's right in front of the window (which you cannot really see as much as I'd like).